The Girls: Demia
Demia v. Eichbüel
Sire: CH T'Gizmo Lion de la Toison d'Or
Dam: CH Jimena Urbana v. Rötelbach
DOB: 24. August 2002
See Demia's photo album.
Demia came with me from Switzerland by plane. Her breeder (Leonberger v. Eichbüel) is a very good friend of mine whom I have known for years. I met Demia's mother for the first time when she was only eight weeks old. I was lucky enough to spend a lot of time with Demia and her littermates from early on (4.5 weeks to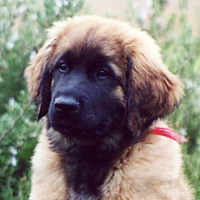 10.5 weeks old) and picked her specifically for her temperament to live with Susan and her family in an active household, as well as for confirmation. She has an incredibly sweet disposition and fit right into the family with her pack buddy Baker the Bernese Mountain Dog.
The plan was to start an extensive breeding program with Demia. The changes in the Leonberger Club of America (LCA) and my perception of the dog world cut those plans very short. We did have a litter with Demia and Yoshka but a second breeding was canceled. Now Demia will live the happy life of a pet only dog, loved by her family and her canine buddy.