Are you looking for a Leonberger puppy?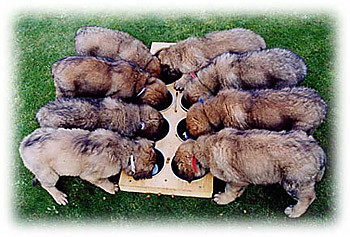 Unfortunately I cannot help you find a Leonberger puppy right now, we are not planning to have a litter in the near future. I also cannot specifically recommend any breeders or breedings. I definitely recommend to go to a LCA breeder but that is not a universal stamp of approval. There are several breeders I personally would never by a puppy from because either I do not like their puppy rearing, their choice of breeding dogs or their general philosophy of breeding. I can only supply you with general tips and guidelines how to find a good breeder and hopefully the best puppy for you.
I cannot emphasize enough how important it is to find a breeder that puts temperament and health first. A breeder who truly has the best for the puppy and puppy buyer in mind.
Most rewards in the dog world are associated with dogs winning in the show ring or maybe in the performance ring. Breeders who produce good looking, typy dogs with excellent temperament and health history but no show winning record are being dismissed by the rest of the dog world. That is wrong, because over 90% of all purebred dogs are going to so called "pet homes". They should not be viewed as the "leftovers" of a litter. Every litter should be bred with puppy buyers in mind that want mostly great temperament and heath. Yes, we want to breed typy dogs but there should never be a compromise when it comes to looks versus temperament and health!
On another page, there is more specific information on how to selecting a good breeder for yourself.