The Boys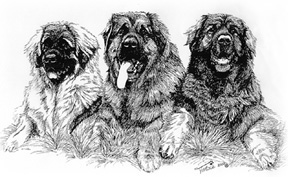 Because many males are being neutered at an early age, we only have a relatively small number of potential studs available in the US. One way of increasing the number of studs in general, as well as giving me as a breeder more choices in selecting a suitable stud, is to co-own males. Fortunately I have friends that are willing to "share" an intact male with me and so I came to co-own a small pack of male Leonbergers. Most of my pack was/is not suitable for breeding but there are a couple of potential studs:
Eros >
Demia's nephew made his way from The Czech Republic to California. He is as energetic and sweet as his aunt.
Xerox >
A German boy with a Norwegian father. Waltraut was hoping for a stud dog to be used but the tooth fairy was even less generous to him than to Audubon.
Coltrane >
Einstein's son lives close by. He is a very big boy and is passed his BACL. I really like his angulation and head. He is increadibly sweet with children and loves me ;-).
Loki >
I will always love Loki! He came from Finland where I saw him first with 6 weeks. He died way too young of bone cancer - everybody who knew him misses him.
Buca >
Yellow eyed Buca-Bear. How can one not love that face. He is getting older but not necessarily wiser. As most of "my" guys he was not sutitable for breeding but is a happy companion to Nancy and Gusta.
Audubon >
My first first co-owned boy. Superb water-dog and crazy retriver. We miss our trips to the beach together.